12 of the Most Over-the-top Hotel Amenities
by Melissa Locker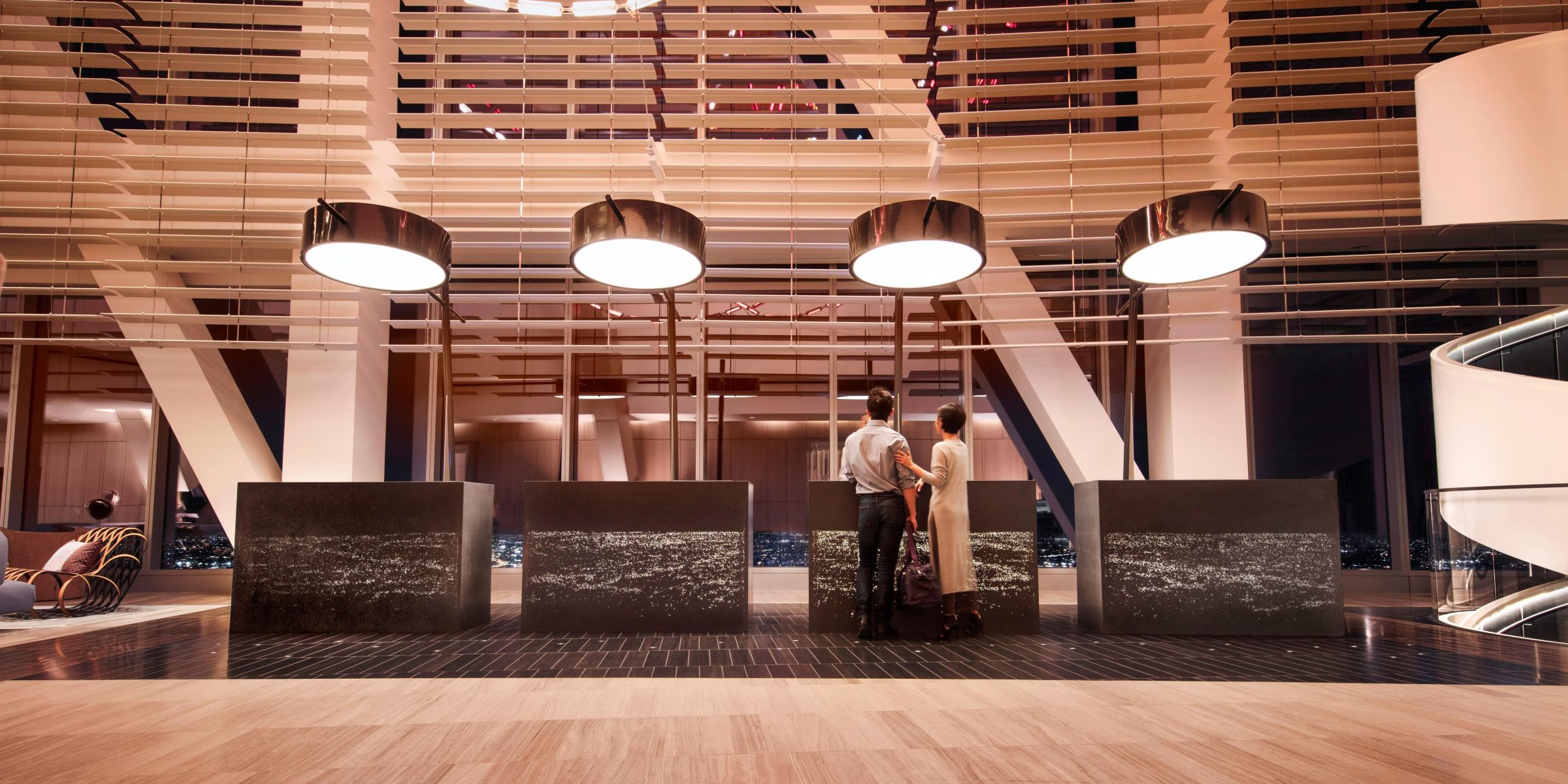 InterContinental Hotel Los Angeles
In the age of Airbnb, hotels have a lot of competition. But there's one area where hotels can really strut their stuff—amenities. Sure, Airbnb hosts can offer travel size shampoo and locally roasted coffee, but can they teach your dog how to surf? When's the last time an Airbnb host offered aura architecture, arranged a visit from a pet psychic, or sent a bottle of champagne to the ski slopes for you?
Hotels have years of experience perfecting the art of amenities, but they've moved way, way past luxurious toiletries and in-room music players. These days, hotels are getting very creative as they compete with home shares and each other for customers—and when businesses compete, creatively, customers win.
Here are a few of the wildest, strangest and downright Coolest Hotel Amenities we could find – these next-level amenities are worth a stay by themselves.

Record Concierge
Every room at Kimpton's Santa Barbara outpost, The Goodland, comes outfitted with a retro Crosley record player. If you're looking for the perfect music to accompany the room's boho-beach vibes, but don't know your Beach Boys from your Best Coast from your Beach Slang, simply call up the hotel's record concierge. The resident vinyl-head will help guests choose the perfect soundtrack from the hotel's library of vinyl.
Pillow Fight Prep
While most hotels discourage brawling in their rooms, Houston's Hotel Derek encourages it. The hotel offers all the necessary ingredients for the perfect pillow fight for anyone eager to gently wallop their loved ones. Call ahead and the hotel will supply extra soft pillows for melee—and milk and cookies for making up at the end of the fight.

Pet Psychic
Portland, Oregon's Hotel DeLuxe knows how to treat their guests of both the two- and four-legged variety. In addition to pillow menus, Salt & Straw Ice Cream, and eager concierges, the hotel also offers pet amenities ranging from beds and bowls to dog walkers and books on dog massage and pet psychology. To make sure they are doing a good job, they also have pet psychics available to make sure their four-legged guests are happy.
Goldfish Rental
The Kimpton Hotels know how to keep kids happy—goldfish. Guests can call the hotel's front desk and order up a goldfish to be delivered to their room. Under the hotel's "Guppy Love" program, the hotel staff will bring a goldfish in a bowl to kick back in the room and keep kids (or lonely adults) company for the duration of their stay. Hotel staff will even feed and clean up after little Nemo.
Ski Butler
If you're anxious to hit the slopes without your personal concierge in tow, never fear because Gstaad Palace has a ski butler on staff. The luxurious hotel located in the alpine village of Gstaad, Switzerland, offers guests a ski butler who will bring a picnic complete with savory snacks, desserts, champagne, and bone-warming glühwein to the slopes for a snowy picnic without ever leaving the ski run.

Rock n' Roll Lifestyle Rental
Guests who book the Rathskeller Suite (AKA The Rat Room) in Boston's Hotel Commonwealth are invited to get in touch with their wild sides. The room pays homage to the iconic rock venue known as "The Rat" where artists like The Police, R.E.M., and the Talking Heads played. Amenities include the chance to play a bass that belonged to Boston legends the Dropkick Murphys, try on a plaid jacket worn by the Mighty Mighty Bosstones, and play all the vinyl records you desire—so long as they're from Rat artists.
Dog Surfing
Dogs can learn how to hang 10…er, 20, at the Loews Coronado Bay Resort & Spa at Coronado Surfing Academy at Coronado's Dog Beach. That's right, water-loving dogs can suit up in doggie board shorts and learn to surf thanks to a patient coach and some mini-waves. After they've surfed to the shore a few times, treat them to a surf n' turf meal of salmon and beef tenderloin.
Pillow Menu
New York may be the city that never sleeps, but guests at the Benjamin Hotel will definitely want to hit the hay after a visit from the hotel's pillow concierge. In addition to a pillow menu with 10 options to rest your weary head on, there's also on-demand meditation, white noise machines, and a lullaby library.
Adult Toys
Next to the cheese plate and the chocolate-covered strawberries, the room service menu at Toronto's Drake Hotel features an adults-only section that would make some travelers blush. The so-called Pleasure Menu features intimacy kits, massage bars, and many more R-rated amenities for those weekends when the kids are far, far away and you don't have to explain anything on your expense account.
Book Butler
Minneapolis's The Commons Hotel is a word nerd's dream. Not only does the industrial chic hotel have a lobby that doubles as a perfect reading room, but they offer nightly Words with Friends Wine Hours and have an in-house book butler with plenty of suggestions to help you round out your reading list (and books on hand to lend out). The hotel, which is next to the University of Minnesota's campus, cements its bookish reputation with Sudoku sleep-ins and in-room art galleries.
Aura Architecture
Nicaragua's Mukul Beach Golf and Spa aims to soothe their guests' minds, bodies, and auras. Before arriving at the beach resort, guests are contacted by the hotel's "aura architect," who will create a room atmosphere customized for each guest. That includes personalized aromatherapy and ambient music to ensure a peaceful stay and a zen-like vibe.

Recording Studios
There's no need to sing in the shower at the W Bali – Seminyak. Instead, head to the hotel's private music recording studio and lay down a few tracks in a space fit for Rihanna, Kanye, or you know, you. The Sound Suite is designed for professional recording artists, studio musicians, and producers, but W guests can get in on the action, too. Anyone looking to get in touch with his or her inner Beyoncé can belt out a few bars or book a master class with W's resident music curator.
"Do not go where the path leads, travel instead where there is no path and leave a trail."  @wbbrjp
CIRPAC Travel / Phone  213 387-4345 / 3407 W 6th Street, Los Angeles CA