Best long haul Economy Class Seats
by John Webber
Comparing Economy Coach Class seats on Long Haul Trans-Continental Flights.
There's nothing like a middle seat on a long flight to remind you how uncomfortable flying can be. But some airlines do better than others, and AirlineRatings.com late last year announced its picks for the best economy service. To earn a spot on the list, these airlines' economy class seats typically had a pitch of 31-34 inches, 6 inches of recline, multiple complimentary meals and beverages, in-flight entertainment and comfort-focused amenities like blankets and pillows.
It's bad news (again) for U.S. airlines: Not even one U.S. carrier made it on the list. Instead, the honors went to Asian and Gulf carriers that are building reputations around their ability to make even coach customers feel like they're worth good service.
Here are their Top 10 Airlines for Longhaul Economy Coach Class (in alphabetical order):
Air New Zealand
Air New Zealand likes to say that the trip from Los Angeles to Auckland is easier than going from the U.S. West Coast to East Coast — and they have a point, even though the flight is more than twice as long. On the overnight trip, you can have dinner, watch a movie, get a solid night's rest, and then awake refreshed on the other side of the world. And beyond the timing and rhythm of that flight, Air New Zealand is winning when it comes to service.
"This is one airline that hasn't forgotten where most of its passengers fly," wrote the editors at AirlineRatings.com. "Who else serves their passengers fruit salad and scones with jam and cream for an afternoon tea snack?"
Cathay Pacific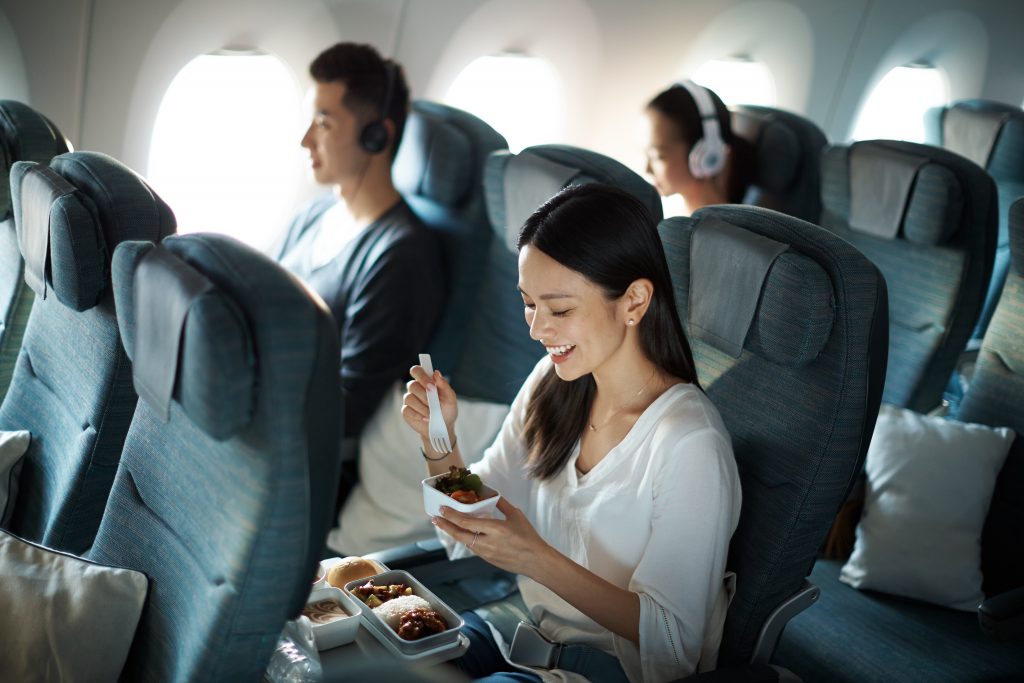 Cathay Pacific is based in Hong Kong, and if you're flying there from the U.S. you'd be smart to consider them. Seat pitch in economy on the 777 is 32 inches.
Etihad
Etihad is making a name for itself in ultra-luxurious airline service. "Its first class on its flagship A380 is quite simply in a class of its own with space, space and more space," wrote the editors. But the airline hasn't completely forgotten about its less well-heeled travelers. Economy class on its longhaul flights is still a cut above: "Offering three main course choices and hot desserts, the airline takes economy to the next level."  You heard that right: Hot desserts. In economy.
EVA Air
Taiwanese EVA Air earns high marks from many airline review sites. Economy class on the carrier's 777 has a roomy seat pitch of 33 inches.
Japan Airlines
If 33 is good, 34 is better. And that's what Japan Airlines offers. "This is easily the best economy class product I have ever used," one traveler said in a review on SeatGuru, noting that the standard economy legroom on Japan Airlines is equivalent to what U.S. carriers would call "premium class seats."
Korean Air
Korean Air doesn't just have great service, it also has a brand color that is about as pleasing and cerulean as it gets.
Qantas
Australia's flag carrier offers great in-flight entertainment, as well as an authentic Aussie travel experience.
Qatar Airways
Qatar Airways boasts some of the widest and more spacious seats in the sky today in its economy class.
Singapore Airlines
"Singapore Airlines has always set the benchmark high," wrote AirlineRatings.com. "From generous sized meals, comprehensive inflight entertainment, self-serve snack bars, generously padded seats with optional lumbar support, footrests and large warm blankets, this airline continues to be one of our favorites."     @wbbrjp
Thai Airways
"With a beautiful cabin, generous meals, efficient service, great in flight entertainment and competitive prices this is one airline you can always rely on for a relaxing and comfortable flight," wrote the editors at AirlineRatings.com.
"Do not go where the path leads, travel instead where there is no path and leave a trail."
CIRPAC Travel / Phone  213 387-4345 / 3407 W 6th Street, Los Angeles CA