Explore Jordan's Hidden Ancient Gem
by Shawn L Fitzpatrick
Add the city of Jerash in the country of Jordan to your bucket list. Explore this hidden gem of Jordan many visitors to Petra never get to see. The ancient ruins of Jerash have long served as something of a little sister to the world-renowned city of Petra. Where Petra has figured largely on the bucket lists of travelers for decades — known for its rock-cut architecture and ancient temples; Jerash was more of an afterthought, a site to fill an itinerary gap.
Jerash should not be overlooked for its size or relative obscurity. The city encompasses a sprawling site of Roman ruins, including two theaters, a temple to Artemis, and a forum surrounded by more than 100 columns. And given its lack of star status, this secret gem is often free of the crowds that swarm to Petra. "Jerash is one of the best preserved Roman cities around the world," Eid Nawafleh, said managing director of Jordan Tours & Travel, noting that it is only a 45 minute drive from the capital of Amman, making it a convenient stop for international visitors.
The city of Jerash faces an additional obstacle, and it is a struggle that plagues the entire tourism industry of the country. Jordan shares a border with war-torn Syria and has been a prominent member of the U.S. led coalition fighting the extremist organization known as the Islamic State or ISIS, making it the target of an ISIS inspired attack in December 2016 that killed 10.
Tourism numbers have dropped over the past few years — with some reports estimating a slump of 66 percent since 2011; though travel professionals insist that the country is safe for visitors. "Jordan has always been safe for tourism," said Nawafleh. "People whenever they come to Jordan, they always feel they are at their home, because of the warm hospitality of the Jordanian people."
Archeologists discovered evidence of habitation in Jerash as early as the Bronze Age, which began in about 3,000 B.C. The settlement began to take shape as a more modern city in approximately 300 B.C. thereabouts or during the Hellenistic period. Jerash's heyday arguably began in the first several centuries A.D. under the Roman Empire, when the city's most prominent architectural structures were built under the Emperor Hadrian. Given the Greco-Roman influences, followed later by the rise of Christianity and then Islam in the surrounding territories, the city has often been compared to Palmyra, Syria for its amalgam of cultures and architectural design.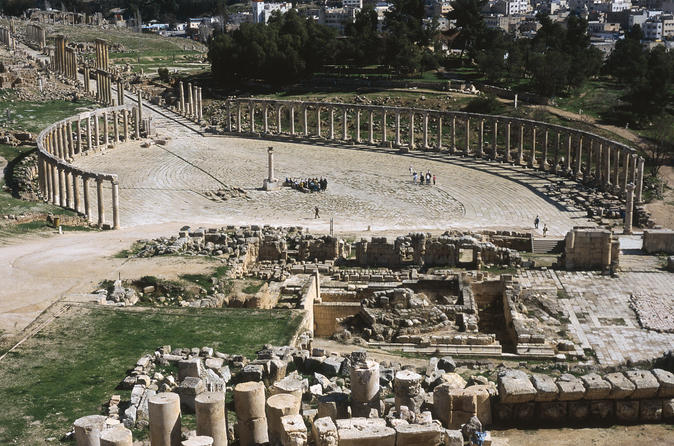 "It was a major cosmopolitan site in antiquity, so there were major temples and beautiful colonnaded streets – anything you would expect in a major Roman city," Lisa Brody, said associate curator of ancient art for the Yale Art Gallery.
"You get a glimpse at a Roman city and how that transforms into a Byzantine city," she said. An earthquake damaged Jerash and buried its remains in sand in 749 A.D, though restorers were able to maintain and reconstruct an extraordinary number of the original structures. The main attraction is a forum surrounded by 160 columns, giving Jerash the nickname "the city of columns."
Two temples, two theaters, a colonnaded street, an agora and a public fountain are just some of the features of the site that transport visitors back to the Roman Empire. Visitors can take guided tours of the monuments and places of worship, immersing themselves in the mixture of influences that made Jerash the place it is today.
"That area is basically riddled with Roman history," said Omar Banihani, marketing manager of the Jordan Tourism Board. "It's had several civilizations come through. When you're at the site you get to see that." Much of the site remains unexcavated, and Banihani noted that when walking around the site, it's easy to notice pottery fragments scattered across the ruins, indicating the buried treasures that still lie below.
The nearby town also offers many of the charms of Jordanian hospitality. Situated in a mountainous area, contemporary Jerash is known for its olive presses and olive oil that visitors can sample at local restaurants or purchase on a walk through an outdoor market. Banihani recommended buying hot bread in one of the bakeries to enjoy while taking a stroll.
Visitors who only pass through Jordan to see Petra miss out on the rich historical and cultural experiences that Jerash has to offer. Petra remains a must-see destination for any traveler to Jordan, as its cliff faces and temples have mesmerized travelers for centuries. But with Jerash 30 miles from the capital, it's an easy day trip, even for tourists with a limited time in the country.
"People start thinking that the country has nothing else but [Petra]," said Banihani. "I think this is a matter of education or information."
Jerash faces the additional challenge that tourism to the entire country has dropped in the past several years, while fighting continues in nearby Syria. The U.S. State Department issued a travel warning for the country following the December 2016 terror attack. "Terrorist organizations, including the self-proclaimed Islamic State of Iraq and the Levant (ISIL), its affiliates, and sympathizers, have successfully conducted attacks in Jordan and continue to plot assaults in the country," reads an excerpt from the warning. The fight against ISIS has increasingly focused on Aleppo, Syria and Mosul Iraq, however — cities that are both hundreds of miles from Amman.
Given the relative isolation of Jordan from the nearby violence, some tourism groups have seen bookings to the country already begin to rebound. Intrepid Travel, a tourism company that leads 14 tours to Jordan, saw a dip in bookings in 2015 and 2016, but their numbers so far have seen steep growth.
U.S. bookings to Jordan were up 80 percent year over year, according to Intrepid's North American director Leigh Barnes, noting an increase in interest in Jerash in particular (eight of their tours make the trek to the ancient city). People aged 25-45 were particularly interested in Jordan, looking especially to trek to some of the natural wonders of the country.
The history and stunning beauty of the city have proved resilient, and Barnes spoke fondly of the compelling nature of Jerash. For those who can withstand the harsh desert heat of Jordanian summers, visitors in July and August can enjoy Jerash's cultural festival, which features theater productions staged in the ancient theaters. "It takes you back to a certain time in the world. It just has that really rich history," Barnes said. "It's quite stunning, just visually on the eye."
"Do not go where the path leads, travel instead where there is no path and leave a trail."  @wbbrjp
LastMinuteFlight.com / Phone  213 387-4345 / 3407 W 6th Street, Los Angeles CA