How Much To Fly First Class?
by J Webber
Your Price Tag for the Most Luxurious International First-Class Plane Tickets: flying might be the quickest way to get from point A to point B, but it isn't always the most enjoyable one. From bumpy flights to bothersome seatmates to barely there legroom, air travel — especially long journeys — can be seriously stressful. That's particularly true for those of us relegated to coach class. However, some travelers have a very different experience in the air.
From gourmet chefs to personal butlers, the rich and famous get to see the skies from an entirely different vantage point, while enjoying the most enviable flat bed seat amenities. Check out the top travel upgrades available on some of the world's leading airlines – take note though that round trip fares are generally cheaper than two one ways.

SINGAPORE AIRLINES FIRST CLASS
Singapore Airlines, headquartered in Singapore, flies to destinations all over the world, including Moscow and Zurich. A flight in its First Class SkySuites from Los Angeles to Seoul, South Korea, in mid-September will cost you a whopping $10,447 one way.
The onboard suites were created by Jean-Jacques Coste, a luxury yacht designer, and feature leather seats. Each space is self-enclosed and can be opened to accommodate two seats if you're flying with a partner. To keep you entertained, flights feature more than 1,000 entertainment options, including music, movies and apps, which you can enjoy on your own 24-inch screen, complete with Bose noise-cancelling headphones. Singapore Airlines has its own International Culinary Panel, and meals can be ordered on board or in advance. Enjoy your dinner on Wedgwood china that is exclusive to Singapore Airlines.
VIRGIN ATLANTIC UPPER CLASS
There's no need to book an Uber when you're a member of Virgin's Upper Class. Your Virgin Atlantic Upper Class one way fare of $3,132 — from New York City to London in mid-September — includes a ride via a chauffeur driven car at both the beginning and conclusion of your journey. Prior to departure you can spend time relaxing in style at one of the airline's Clubhouse terminal lounge locations. The Clubhouses feature gourmet food and cocktails, and some locations even offer spa services. Plus, Heathrow provides a Revivals lounge for freshening up after landing.
The ultra-comfortable seats aboard this airline transform into fully reclining beds, in case guests want to rest during their flights. When you wake up, be sure to take advantage of the in-flight internet, personal touch screen and gourmet food available on demand. An amenity kit with travel-sized essentials is provided for your convenience. Virgin Atlantic is based in Crawley, UK, and flies to multiple destinations, including Johannesburg and New Delhi.

ETIHAD AIRWAYS FIRST CLASS
A $17,144 round-trip ticket from New York City to Mumbai, India, might sound steep. However, on Etihad Airways, every first-class passenger has his or her own three-room apartment, aptly named, The Residence. Along with a permanent bed, the Residence suites come complete with highly trained butlers, stylish pajamas, pillow mist and pulse point oil to keep you calm and relaxed on your journey.
While on board, a personal chef will whip up multi-course meals for your pleasure. Additionally, you can enjoy Cognac service and peruse the boutique wine list. Have a glass while checking out the on-demand entertainment with your personal flat screen and noise-cancelling headphones. Etihad is based in the United Arab Emirates and flies to dozens of destinations around the world, including Athens Greece and Auckland New Zealand.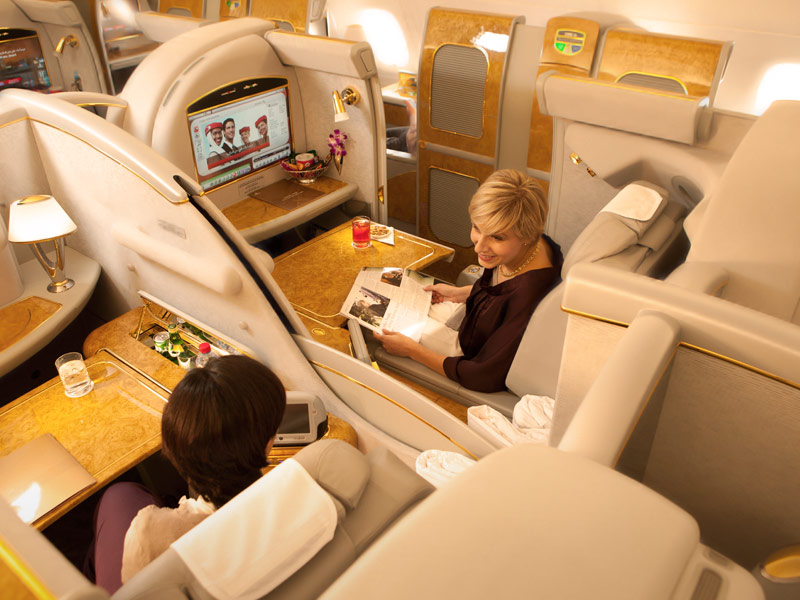 EMIRATES FIRST CLASS
When you fly first class on Emirates from 70 cities, a chauffeur will bring you to and from the airport. There, you will be granted speedy check-in service and access to the Emirates lounge, from which you board directly. A round-trip First Flex Plus (flexible) ticket from Dallas to Ghana in mid-September costs about $24,627. On board, the Emirates private suites offer total privacy along with seats that convert into beds. When you wake up rested and refreshed, bring your Bulgari amenity kit to the onboard shower spa (on certain flights) or use the provided Voya skin care products. While each suite has its own bar, you can have a drink and a snack at the Onboard Lounge — which is available to First Class and Business Class passengers — if you're feeling social.
If you are hungry, order from the a la carte menu of regional dishes and dine with Robert Welch cutlery on Royal Doulton bone china plates. Wash down your meal with wine selected by a sommelier or enjoy a host of cocktails, champagnes, beers, spirits and hot and cold drinks. The airline also provides fresh, detoxifying juices. For entertainment, you can choose from 2,000 channels of movies, TV shows, sporting events, music and video games. Create a personal playlist to suit your mood. Emirates is based in Dubai and flies to many cities around the world, including Johannesburg and Dhaka Bangladesh.

SWISS INTERNATIONAL AIRLINES FIRST CLASS
A first class ticket — which will run you $10,019 for a round-trip flight from Miami to Zurich in September — guarantees you priority boarding and a relaxing experience in the airport lounge. You are also welcome to bring extra baggage and checked luggage, which will receive priority handling upon arrival. Along with access to hundreds of TV shows and movies, the flight offers 400 CDs in your private listening and viewing station. There is also special content for children. As an added bonus, you can choose from six different designs for your amenity kit, which includes Zimmerli pajamas and La Prairie skin care products.
On Swiss Airlines, you can eat whenever you're hungry, and depending on the time of year, a variety of Swiss and international delicacies await, including a selection from the Peninsula Hotel Hong Kong. There are also different meal options throughout the year, such as seafood in February, caviar in May and white truffles in November. The airline is based in Zurich and Geneva and flies to 102 destinations in 46 countries, including Vienna and Porto, Portugal.

BRITISH AIRWAYS FIRST CLASS
Once you check in, you can wait to board your flight in a British Airways lounge, which offers elegant dining. At Heathrow and JFK, there are also spa services available. Once you board, settle into a private suite complete with a flatbed and duvet. If you aren't in the mood to watch a movie, listen to an audio book or play a game, using your complimentary noise-cancelling headphones. Plus, you'll receive an exclusive Liberty London amenity kit complete with Aromatherapy Associates essentials.
The food menu is extensive and even includes a classic English afternoon tea. You can also dine whenever you desire from the a la carte menu, which includes alcoholic and non-alcoholic beverages. British Airways is based out of London and flies to 80 destinations around the world, including Buenos Aires Argentina and Kathmandu Nepal. A round-trip flight from New York City to London in September will cost you about $5,982.
LUFTHANSA FIRST CLASS
Lufthansa has hubs in Munich, Zurich, Frankfurt, Düsseldorf and Vienna. A round-trip, first-class flex ticket from Los Angeles to Munich will cost you around $21,599. If you are flying out of Frankfurt, valet parking is available. And at many global destinations, a personal assistant will be on hand to accompany you through security and baggage.
Once you board, you can expect to enjoy a customized lighting scheme and a seat made from fine materials. An array of in-flight entertainment, including 100 films in eight languages, means you don't have to worry about getting bored on long trips. You can also listen to sports highlights and news on your very own Bose noise-cancelling headphones. A variety of top chefs prepare the multi-course meals on board. And, of course, there is plenty of caviar to go around.


ALL NIPPON AIRWAYS (ANA) FIRST CLASS
Based in Tokyo, ANA serves dozens of international destinations, including Kuala Lumpur Malaysia and Ho Chi Minh Vietnam. A First Class, full flex (flexible) one way ticket from Houston to Singapore costs around $15,872.
To better enjoy your time at the airport, relax in the ANA lounge until it's time to depart. On board in your semi-private cube, you will surely enjoy lounging with your cashmere and organic cotton lap rug or reclining on the conditioning mattress. Stay busy with a personal entertainment system that includes movies, games, e-books, SKY LIVE TV and music. The menu features foods selected by the Connoisseurs, a group of renowned chefs from around the world. Savor Japanese Kaiseki-style delicacies or opt for modern European dishes.

QANTAS FIRST CLASS
First-class passengers aboard Qantas receive complimentary chauffeur service to and from the airport, as well as assistance from First Hosts upon arrival at the airport. Relax in the First Lounge, which offers a gourmet menu, open or private seating and complimentary spa services. Once you are in your private suite, you'll have plenty of room to stretch out or even entertain a visitor, if you're traveling with a companion. And be sure to bring your appetite — all meals are designed by Chef Neil Perry. And sommeliers are available to recommend wines to accompany your food. Feel free to snack or enjoy coffee, tea, wine or beer at your leisure.
For entertainment, you will have access to a personal touch screen with hundreds of movies, TV programs, albums, radio stations and interactive games and maps. When you're ready to rest, the bed folds all the way down for optimal comfort. You will sleep easy thanks to a sheepskin mattress, pillows, blankets and duvet. Additionally, guests receive amenity kits that come complete with Aurora Spa skin care products, Martin Grant socks and eye masks. Qantas is based in Queensland Australia, and services many national and international locations, including Beijing and Tokyo. A nonstop sixteen hour flight from Los Angeles to Melbourne Australia, in mid-September costs $20,537.
"Do not go where the path leads, travel instead where there is no path and leave a trail." @wbbrjp
LastMinuteFlight.com / Phone 213-387-4345 / 3407 W 6th Street, Los Angeles CA