New Luxurious LAX Terminal Lounges
by Hugo Martin
Record Airline Profits help pay for posh LAX Airport Lounges
If you want to see where the world's airlines are investing some of their record profits, check out the newly renovated airport lounges across the country, including several posh new facilities at Los Angeles International Airport. The lounge upgrades are part of more than $2 billion in terminal renovations that airlines have proposed or have completed at LAX since 2012.
The bad news is that most fliers won't get access to these swanky new digs. The upgraded lounges are almost exclusively reserved for elite fliers who buy the most expensive airline tickets.
Qantas last week unveiled a multimillion-dollar upgraded lounge that is triple its previous size and includes a second food buffet, a total of 16 shower stalls and a make-your-own juice bar. The lounge is shared with Cathay Pacific and British Airways.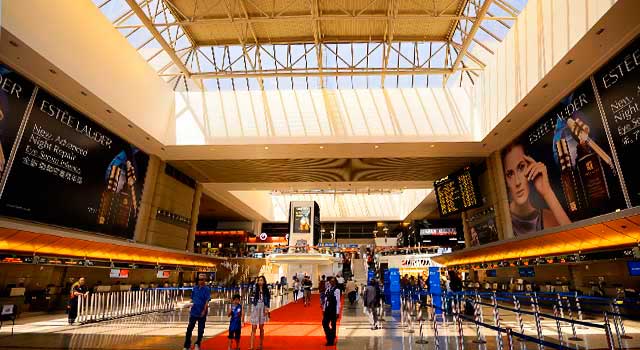 In addition to the shared lounge, Qantas operates an even swankier lounge for its first-class passengers. "Customers tell us that being able to enjoy a relaxing and welcoming space with high-quality dining options prior to flying is top of their wish list when it comes to creating the ideal lounge experience," said Vanessa Hudson, Qantas regional general manager for the Americas.
Virgin Atlantic spent nearly $4 million to open its first lounge at LAX last month. It's a 4,000-square-foot facility with brightly colored couch pillows, a copper-trimmed bar, a full kitchen and a digital screen that covers an entire wall.     @wbbrjp
American Airlines announced plans last week to upgrade the lounges in six major airports, including LAX. United Airlines expects to complete a renovation of its LAX lounge by 2017 as part of a $450-million renovation of Terminals 7 and 8.
Delta also expects this year to complete a lounge renovation as part of a $229-million overhaul of LAX airport's Terminal 5.
"Do not go where the path leads, travel instead where there is no path and leave a trail."
CIRPAC Travel / Phone  213 387-4345 / 3407 W 6th Street, Los Angeles CA