Onboard the Luxurious Four Seasons Jet
by Paul Brady
What It's Like Aboard the $117,000-a-Seat Four Seasons Jet
The TCS jet is a specially outfitted Rolls Royce engine Boeing 757-200 with only just 52 business class-style seats throughout and with a slick all-black livery.
While TCS operates a variety of trips aboard charter aircraft, the Four Seasons branded "Select Escapes" are new for 2016. An around-the-world trip leaving Orlando on January 2 will visit Peru, Chile, Australia, India, Jordan, and more on a 23-day journey priced at $117,000 per person. A second trip, leaving Los Angeles on March 19, will visit Australia, Laos, India, Tanzania, South Africa, and Brazil, among others, on a nearly month-long, $122,000-per-person journey.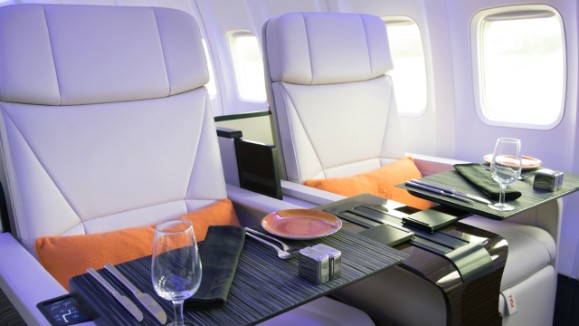 On board, white leather seats in a two-by-two configuration offer business-class width, power plugs, Bose headphones, and iPads pre-loaded with movies, music, and other entertainment in lieu of seat-back TVs. Wi-Fi is available globally on TCS flights, according to the company.
Armrest panels let passengers control recline.
While the seats do go fully flat—and duvets and extra blankets are available for naps—most flights are operated during daytime hours. Passengers do get luxe amenities, including cashmere blankets and Bulgari travel kits.
There's no shortage of food or beverage options aboard the flights, and all are included with the fare.
The mood-lit cabin, while not huge, does feel particularly spacious thanks to the small number of passengers aboard. With 52 seats, the jet is even less densely packed than all-business-class carriers like La Compagnie, which flies a 74-passenger 757. A typical layout, like one version of the 757 operated by Delta, can seat 199.     @wbbrjp
Along with the flights, the six-figure trips also include stays at high-end properties worldwide and on-the-ground guided expeditions. Think of it as a cruise with airports—rather than ports—of call.
"Do not go where the path leads, travel instead where there is no path and leave a trail."
CIRPAC Travel/ Phone  213 387-4345 / 3407 W 6th Street, Los Angeles CA