United's Redesigned Domestic First Class Seat
by John Webber
A handful of United Airlines executives and representatives from British aviation design firm PriestmanGoode were packed into a small conference room at headquarters for the big reveal of United's new First Class Cabin Seat recently. The new seats are being installed on United's domestic narrow body fleet of more than 200 aircraft – specifically the Airbus A319 debuting immediately; with retrofits on A320s and many Boeing 737s and 757s through 2016. The number of seats in United's First Class premium cabin will remain the same, as will United's cabin seat pitch of 38 inches.
The new First Class Cabin leather seat in shades of navy and champagne, designed by British design firm PriestmanGoode, is the result of many months of research and focus groups involving a number of United passengers. The new seat is 21.1 inches wide – just over an inch wider than United's existing First Class seat product. Though the new seat itself will be notably more spacious, it also means premium cabin aisle width on United's domestic flights will shrink notably to 24 inches from the current 28 on Airbus planes. Another key feature of the new seat is a tray table that allows passengers to position iPads or other mobile devices upright for easy viewing of streaming entertainment now available on many United aircraft.      @wbbrjp
The new seat also has more in-seat storage and side-seat storage for laptops and tablets and water bottles, as well as black granite cocktail tables situated between seats. In-seat universal A/C power outlets are being installed with the new premium cabin seats. United's existing Economy Plus seats are being retrofitted with the power outlets at the same time, according to United executives.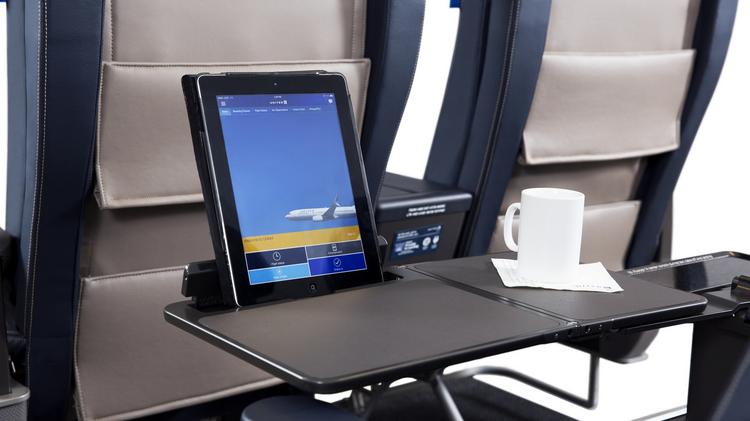 "Do not go where the path leads, travel instead where there is no path and leave a trail."
CIRPAC Travel / Phone  213 387-4345 / 3407 W 6th Street, Los Angeles CA